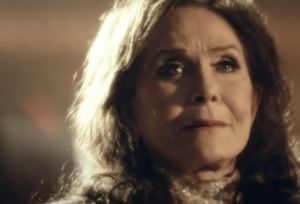 Country music legend, Loretta Lynn, died in October at the age of 90. She leaves behind a rich country music legacy and an impressive library of great songs. Most aren't ideal as a first dance song, but there are some gems. Let's take a look at top Loretta Lynn love songs for weddings.
The Coal Miner's Daughter
Her signature song was The Coal Miner's Daughter, which was also the title of the Academy Award winning biopic on Ms. Lynn's life. It's probably not a good first dance song unless the bride was born in a cabin in Butcher Holler or her daddy was a coal miner or she "read the Bible by the coal-oil light."
But in case that's a fit, here is this timeless classic, as sung by Sissy Spacek in the movie by the same name:
Many of her songs dealt with relationships and were confrontational, such as "Fist City" and "You Ain't Woman Enough (To Take My Man)." Others were downright controversial, such as "The Pill." 
Ain't Love A Good Thing
Nonetheless, she knew how tap the simple beauty of love in a song like, "Ain't Love A Good Thing." The lyrics are simple and sweet:
Ain't it good to know that love can take away the rain

And make the sun shine again.

Ain't it good to know that love can take a lonely dream,

And turn it into the real thing.
Love is the Foundation
This was Ms. Lynn's 7th number one single on the Country Music charts. Written by Cody Hall, the refrain says it all:
And love is the foundation we lean on,

All you need is love to ease your mind,

And does it have to be right to be called love

When he gives me more loving

Than a lifetime of looking could ever find.
Easy Lovin'
Ms. Lynn joined forces with her frequent vocal partner, Conway Twitty, to cover this love song, written by Freddie Hart, which proclaims the beauty of love:
"Life with you's like livin' in a beautiful dream."
Followers of today's music scene can see how Loretta Lynn was on influence on the likes of Taylor Swift. Ms. Swift acknowledged as much in her tribute to Ms. Lynn:
"I'm so grateful to Loretta for being an example, not only for songwriters everywhere, but more specifically female songwriters. She was so ahead of her time. The way she exercised brutal, truthful, fearless honesty every time she sat down to write a song is something that changed music forever and paved the way for every songwriter who's trying to be truthful and honest today."
Let's look at one last Loretta Lynn love song for weddings.
We've Come a Long Way, Baby
This is a fun song, perfect for marriages that are true partnerships built on striving and equality, and perfect for couples that can laugh at themselves. The lyrics will leave your guests smiling:
We've come a long way, baby,

All the way to Hollywood from Arkansas.

We've come a long way, baby,

Second class don't turn me on at all.
Brian Howard Entertainment & Talent has come a long ways too! 
We offer everything your Long Island wedding celebration needs to be a smash hit, from beautiful, controlled sound systems that can project any Loretta Lynn song with perfect clarity, to lush lighting systems and fun photo booths.
Loretta Lynn says, "ain't love a good thing?!" Indeed it is! And we'll pack a dance floor and entertain your guests whether you're a coal miner's daughter or a queen's son!