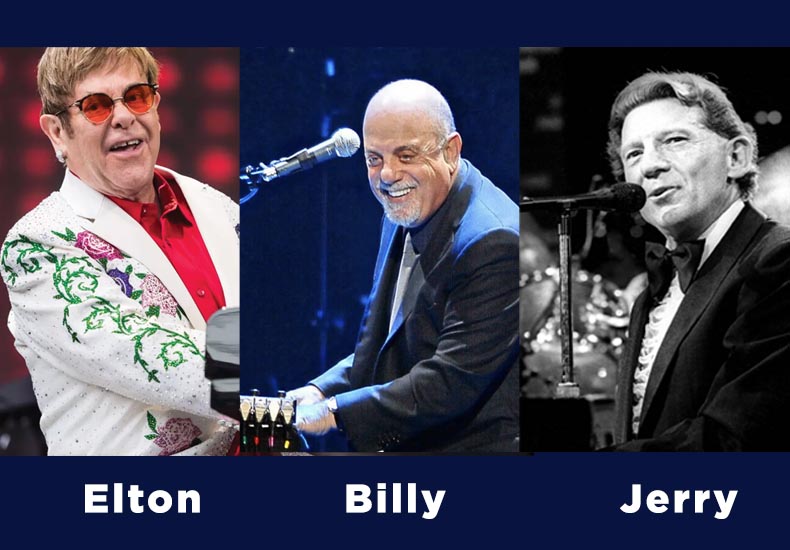 With the recent passing of rock n roll legend, Jerry Lee Lewis, friendly arguments are raging on who is the best rock piano player ever? There seems to be but three top candidates: Elton John, Billy Joel, or Jerry Lee Lewis.
For younger readers, Jerry Lee Lewis was a contemporary and friend of Elvis Presley, launching a seven decade career beginning in the 1950s. Lewis was something of a 'wild man' on the piano … and in his personal life. He married seven times. His first marriage was quite a scandal, as he married his 13 year old once-removed cousin.
On the keyboards, Lewis was a terror, burning up the piano with a pounding boogie-woogie technique that left no key untouched. The speed and accuracy of his playing was impressive, especially in light of the fact that he leapt up and down while singing without missing notes! Lewis was a rock n roll showman first, who happened to be a terror on a baby grand second.
Music critic Robert Christgau offered a colorful description of Lewis' technique:
"His drive, his timing, his offhand vocal power, his unmistakable boogie-plus style piano, and his absolute confidence in the face of the void make Jerry Lee the quintessential rock and roller."
The video below gives you a glimpse of The Killer's (his nickname) energy when he was at the peak of his powers:
So how does he stack up compared to Elton and Billy?
Let's face it, it's subjective. Elton John is a big fan of Jerry Lee:
"Without Jerry Lee Lewis, I would't have become who I am today. He was groundbreaking and exciting, and he pulverized the piano. A brilliant singer too."
When it comes to a direct comparison between Elton and Billy, a website called Lyft surveyed their followers with this question:
"Who's the real piano man: Billy Joel or Elton John?"
Billy won the vote 52.9% to 47.1% for Elton. Let's look at the these great piano players.
Born Reggae Dwight, Elton was trained in classical music, earning a scholarship to the prestigious Royal Academy of music. This scene from the Elton biopic, Rocketman, gives you a glimpse of his talent at a young age:
Billy and Elton have shared the stage in a string of sold out concerts over 16 years. So they know each other's playing well. Says Billy:
"He's [Elton] a much better piano player than I originally gave him credit for. A lot of the nights were together, I went 'Holy s***, he's a good pianist.' When I watch Elton, he goes into a trance … When he's offstage, he's a rock star … but I watch him onstage and he goes into a whole other sort of dimension. He can take off on a piano solo in keys I don't even know how to play."
Billy Joel also had early training in classical music, beginning lessons at the age of four. After he stopped putting out rock n roll albums, he wrote an entire album of classical piano solos called, "Fantasies & Delusions: Music for Solo Piano", although the pieces were actually played by concert pianist Hyung-ki Joo. Why? Because Billy said he wasn't good enough to play the pieces himself:
Since Billy and Elton have played so many concerts together, millions of people have seen them side-by-side to draw their own conclusions, such as the video where they play a couple of Jerry Lee's greatest hits:
When you compare them to Jerry Lee, you can see their classical influences on display, which give them an edge over The Killer.
Elton John and Billy Joel can rock with the best of them, including Jerry Lee Lewis, but also can bring tremendous depth and finesse to the piano. Elton and Billy have also written and performed rich love songs perfect for first dance songs at weddings; Jerry Lee less so. Lewis did have a hit love song in 1968 called, "To Make Love Sweeter for You."
The lyric is quite nice:
"Well, I'd like to send an orchid at the start of every day

For flowers show more beauty than words could ever say

You've done so much for my world till all I want to do

Is try my best in every way to make love sweeter for you."
Take a listen:
So, who is the best rock piano player ever? Who knows? It comes down to your personal tastes. So, who is the best wedding entertainment around? Well, if you like the thought of customized music and packed dance floors for your upcoming wedding celebration, Brian Howard Entertainment is awfully hard to beat! Popular dates book fast. Check to see if we're available for your date today.